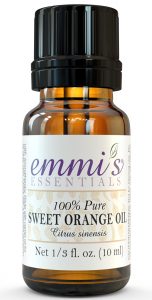 If you have been wanting to harness sunshine in a bottle, we have the solution. Emmi's Essentials is proud to introduce our 10 ml Sweet Orange Essential Oil available on both Emmi's Essentials site and Amazon.com.
As with all of Emmi's Essentials oils, our Sweet Orange is 100% pure with no added fillers, bases, or carriers and is backed by our "Love It or Your Money Back" guarantee.
USES:
SUN-KISSED AROMA for SKIN: Sweet Orange can easily be added to your favorite cream or lotion for an all over scent.
ENERGIZE: In an essential oil diffuser, this oil awakens creativity while enhancing your mood in the colder, darker months. Great tool to try for those suffering from Seasonal Affective Disorder (SAD). Blends well with lavender, lemon, and peppermint. An immediate pick-me-up with the first whiff!
DIY CLEANING: Add to DIY cleaning recipes to control odors, freshen the room, and sanitize kitchens and bathrooms without having to use harmful chemicals.