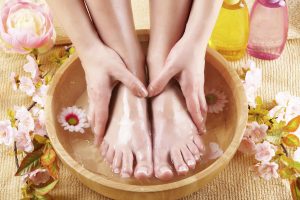 Do your feet swell after a long day at work?  Are your feet sore and smelly after getting in those extra work outs?  Here is one simple and very effective foot soak to get some relief.
Add 1/2 cup of Epson Salts
And 8 drops of Peppermint Essential Oil
To a foot bath filled with warm water
Soak for 10 minutes
Remove feet and rinse in cold water for 30 seconds
Dry feet and add lotion or balm
Menthol is a property in peppermint oil that is abundant. It makes your feet feel tingly and cool as well as helps with increased circulation. The Epsom salts help with edema. And as a bonus, foot odor will disappear after this refreshing soak.
So, why not pick up a bottle of peppermint oil and try this refreshing foot soak. You won't regret it 🙂