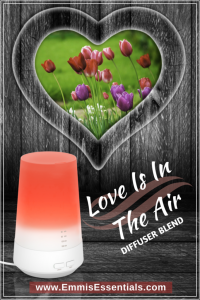 Anytime is a good time for love. So, now is the time to gather your essential oils and diffuse up a blend to craft the perfect romantic evening for you and your sweetheart.
LOVE IS IN THE AIR AROMA DIFFUSER BLEND
2 drops of black pepper

Actually does not cause you to sneeze; but does add heat and spice to your blends (perfect for a little romance). It is a middle note aromatically and works well with almost all other essential oils.

2 drops of grapefruit

Sweet, tangy aroma top note which energizes.

2 drops of jasmine

Considered an aphrodisiac. Is a middle note with a warm, floral, exotic aroma.

100 ml of distilled water
Just add all of this into your Emmi's Essentials Aroma Diffuser, plug it in, and have a wonderful romantic evening 😉
Don't have our Aroma Diffuser yet? Well you can order one by clicking the big green button below.

You can find  41 other diffuser blends in our Diffuser Essentials: Blends for Every Season eBook available only with the purchase of our Mini Ultrasonic Aroma Essential Oil Diffuser and Humidifier on Amazon.com. Our aroma diffuser is the perfect size for your home. It is small enough to fit nicely on a nightstand, a desk, or kitchen counter. But, it is powerful enough to run for 3 solid hours!
Not only is it the perfect size, but it also cycles a rainbow of soothing, peaceful, LED lights that will keep you mesmerized while you breathe in the healing properties of the essential oil blends you choose to diffuse.
Here's what other people are saying about our diffuser.
I absolutely fell in love with this diffuser within minutes of plugging it in! I filled it the purified water and a few drops of Emmi's Essentials Peppermint Oil. It did not take too long before my bedroom was filled with the wonderful soothing scent of peppermint! The diffuser offers a calming light show of ever changing colors, or you can stop it on a favorite. The cool-mist spreading the peppermint oil fragrance is delightful – I am In Love With This Product! I live in a home that was built 130 years ago – the ceilings are high and the walls are thick, but this diffuser manages to permeate the rooms nicely.
L. Reel

When I unpacked this diffuser, I was impressed at how unobtrusive it was. Even if this does not really match any of your home decor, it is small enough to hide behind picture frames on a mantel, lamp on an end table or even a speaker for surround sound. That being said, it is definately cute enough to be placed out in the open for all to see!
Amazon Customer

I'm in love with this little diffuser! It's simple so simple to use and clean. It came with very clear and detailed instructions. I promptly filled with water and peppermint oil, and ran it at bedtime. I ran it only for 120, minutes. You have the option of 30, 60,120, and 180. I have a lot of sinus issues, and feel like this helped with a boost to the vaporizer that I run throughout the night. I woke up clear and headache free! Now, it's in my kitchen with lemon oil. This little diffuser really puts out a good quantity of vapor. My entire house smells lemony fresh! The device itself is high quality and leak free. I set it on my solid wood night stand and ran it through the night, without a droplet of water touching my furniture. I have used other similar products, but they have been battery operated. I like that this diffuser comes with an A/C adapter and a timed shut-off. It will also shut-off when the tank runs dry. I can turn it on without fear of ruining it, or or having dead batteries. I will definitely be ordering more for other rooms in my house!
Leslie L.
Diffuse your way to a memorable romantic holiday with your sweetie. Click the big green button below to get your Emmi's Essentials Aroma Diffuser on Amazon today!

P.S. We would love a Pin, Like or Tweet! Please share 🙂