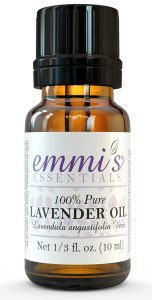 If you want to ease stress and just chill out, this may be your answer. Emmi's Essentials is proud to introduce our 10 ml Lavender Essential Oil available on both Emmi's Essentials site and Amazon.com.
As with all of Emmi's Essentials oils, our Lavender is 100% pure with no added fillers, bases, or carriers and is backed by our "Love It or Your Money Back" guarantee.
USES:
FIRST AID: Add to lotions or carrier oil and apply to sunburns, cuts and scrapes.
SLEEP: In an essential oil diffuser, this oil promotes sleep and relaxation. Great for a baby's room, or the insomniac in your household.
RELAX IN THE TUB: Add a few drops in the tub to soak all your troubles away.