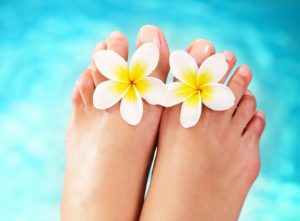 Toenail fungus is a little embarrassing, right? Crusty, discolored, and funky-looking nails can be easily hidden in the winter with shoes and socks. But beach toe weather is quickly approaching!! And now is really the perfect time to begin to liberate your toes for summer so you can wear flip flops and sandals with confidence.
WHY DO I EVEN HAVE TOENAIL FUNGUS?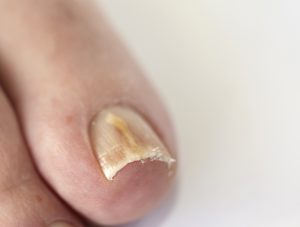 Toenail fungus can be picked up simply by walking barefoot at a swimming pool, locker room, or even from a sketchy nail salon pedicure. The fungus that causes the condition thrives in warm, moist, dark environments. And once you get it, it can spread to your other nails. Even your fingernails!
It often will start as a tiny white or yellow spot underneath the tip of the nail. As it spreads, it grows under and into the nail causing your toenail to become unrecognizable.
HOW CAN I TREAT IT?
There are options out there to treat toenail fungus. Some that just don't seem to work, and others that are downright dangerous.
Oral antifungals seem to be effective. However, they can be super expensive and in some people toxic (can cause liver damage).
Nail lacquers with antifungal ingredients can be painted on the nail. However, the process can take up to a year to work, if it works at all. Studies show that nail lacquers only have about a 10% success rate.
Nail removal by a podiatrist can be used for serious infections. But that sounds downright tortuous! YIKES!!
Tea Tree Oil applied twice a day for about 8-1o weeks. Sure, tea tree oil is our product, and we love all the things it can do. But, we strongly advocate you give our tea tree oil toenail fungus treatment a try. We have had customers really rave about the results. In fact, one customer recently left the following feedback on using our product for toenail fungus:
Best tea tree oil on the market…..did my toenail fungus in in 8 weeks when no other product (even prescriptions) worked. Stephen W., December 21, 2014
HOW DO I GET BEACH TOE READY BY SUMMER?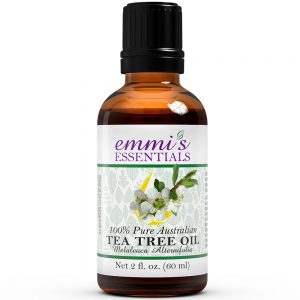 Well, first, buy a bottle of Emmi's Essentials Tea Tree Oil! And remember, treating toenail fungus is a long, laborious process. Your toenail will need to grow completely out for the fungus to be completely gone. But, you should start to see positive results in about two months. So be persistent! It will work 🙂
To treat: trim your nail back as far as you can stand. Apply 100%, undiluted, Emmi's Essentials Tea Tree Oil to a cotton ball (3-5 drops). Apply to your nail, getting under the tip as well as on top of the nail. You will need to repeat this process 2-3 times a day.
Make sure to dispose of the cotton ball and thoroughly wash and dry your hands after contact with the infected nail to avoid the fungus from spreading to your fingernails.
More tips:
Keep your feet clean and dry
Keep your toenails cut straight across and shorter than the tips of your toes
Change your socks frequently and avoid socks that hold a lot of moisture or make your feet sweaty (i.e. wool).
Not only is tea tree oil a strong antifungal, it is also wonderful on skin conditions such as acne, psoriasis, athlete's foot, and dandruff.
It can also be used to make money-saving, all-natural cleaners to sanitize your kitchen and bathroom!
Really, every home should stock a bottle of tea tree oil in their medicine cabinet!
Need some more convincing? Here's what other people are saying about our Tea Tree Oil in battling different types of skin and nail fungus.
Very high quality tea tree oil. I've been using another brand that costs almost as much, but with 1/2 the content (1 oz. bottle as compared to this 2 oz bottle). This stuff is amazing……….does the job on toenail fungus (but takes a couple of months to work) better than any other product I have tried.
Stephen L.

I purchased a bottle of the Tea Tree Oil from Emmi's Essentials to treat a recurring foot fungus. I put a drop or two on a cotton ball and applied it to the infected area twice a day; the fungus was dried up in 5 days. This was half the time of the crème that I received from my doctor. I was skeptical but it works, and it is cheaper than the prescription from the doctor. Great product.
Michael
Don't suffer with toenail fungus for one more minute.  Click the big green button below to start your journey from embarrassing fungus toes to fabulous beach toes now 🙂

P.S. We would love a Pin, Like or Tweet! Please share 🙂