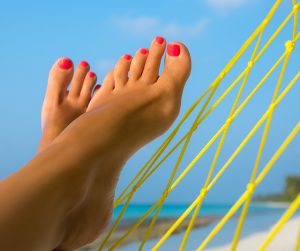 Toenail fungus can be a little embarrassing. Crusty, discolored, and flaking nails can be easily hidden in the winter with shoes and socks. But summertime is a different story. When folks like to kick it up in sandals and flip flops, they want their toes looking their best. To help everyone suffering from toenail fungus to try to put "their best foot forward" this summer, Emmi's Essentials suggests trying the  natural remedy and antifungal, tea tree oil (TTO).
"Many people battle with toenail fungus for years," said Cherie Stirewalt, aromatherapy enthusiast, and Co-founder of Emmi's Essentials. "They have tried just about everything they can think of; prescription medication, Vicks vapor rub, apple cider vinegar. And, then they hear about tea tree oil. Maybe a friend has used it, or they found out about it on Google. Many are skeptical, until they buy a bottle and try it. Sometimes, customers see a change in their nails within just a few applications." "Our tea tree oil is premium," said Stirewalt. "We spell it out, in black and white, that our oil contains 42.6% terpinen 4-ol and 2.14% cineole levels. Many of our competitors do not tell you what their levels are. They may be willing to sell you a big 4 oz. bottle very inexpensively; but what is really in it? How can you trust that it will work and isn't full of fillers?"
Stirewalt went on to explain, "You know a quality tea tree oil when you smell it. It should have a strong, fresh, medicinal, earthy aroma with minty, spicy notes. A little like Mr. Clean and tree bark mixed together. If the price seems too good to be true; it probably is."
Emmi's Essentials Tea Tree Oil hails from Australia and is bottled in the USA. It is currently sold in 2 oz. bottles, and judging by the reviews, has quickly become a favorite for toenail fungus relief.

"I guess my favorite feedback from a customer is from a gentleman named Scott. His feedback is on Amazon if anyone wants to read it," said Stirewalt. "In the feedback, he claims he has been battling toenail fungus for 15 years. And after a daily regimen of drops, he finally won the battle against toenail fungus by using our product. That makes us feel great. This poor man had suffered with this condition for so long, trying prescription and over the counter remedies. And we were able to help him. He even said, '…For skin issues, this seems like the Holy Grail of treatments!'"
And there are many more reviews like Scott's on Emmi's Essentials Tea Tree Oil product page on Amazon. Here are just a few comments:
"Very high quality tea tree oil. I've been using another brand that costs almost as much, but with 1/2 the content (1 oz. bottle as compared to this 2 oz bottle). This stuff is amazing……….does the job on toenail fungus (but takes a couple of months to work) better than any other product I have tried…"
by Stephen

"I have been trying to get rid of a toe fungus for many years. It's just awful and nothing seems to work. The Tea Tree Oil seems to be affecting the area more aggressively than any thing else I've tried."
by Donna

"just placed a re-order! Battling with nail fungus issues for years – yep – I said it out loud…(ALWAYS wear flip flops in the gym locker room folks!!) while I believe medications finally kicked in and interrupted the fungus to some extent, it's the tea tree oil that is adding a another layer of defense and repair to the nails themselves. It soaks in better than anything I've every tried before and I could see a change to the color of my toenails with a few days."
by Steve

"I purchased this product because I have been dealing with toenail fungus for several years and have tried pretty much everything, including most of the products sold on Amazon. I have even tried holistic remedies like apple cider vinegar and coconut oil. The tea tree oil made a fairly immediate difference. The discoloration on my tails disappeared instantly. I cannot say that I am completely cured yet because my nail has to grow out and that takes time, but I can say that it appears that I have finally found something that has worked. My fingers are crossed!"
by D.

"I was told by my doctor the at I have toenail fungus. She prescribed a medication that was quite expensive, and I understand I would have to renew it several times before I saw any results. My husband did some research online and he discovered Australian Tree Oil and it is good for this condition. I was a little skeptical at first, but went ahead and ordered it. I couldn't be happier with the results. My toenail looked much better within a week! I would highly recommend this item."
by Sue
HOW DO YOU PREVENT TOENAIL FUNGUS?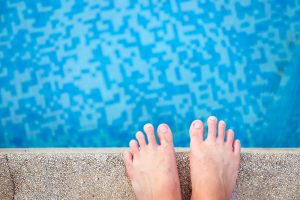 Stirewalt explains that toenail fungus can be picked up simply by walking barefoot at a swimming pool, locker room, or even from a nail salon pedicure. The fungus that causes the condition thrives in warm, moist, dark environments. And once you get it, it can spread to your other nails. Even fingernails. It often will start as a tiny white or yellow spot underneath the tip of the nail. As it spreads, it grows under and into the nail causing your nail to become unrecognizable.
MORE TIPS:
Keep your feet clean and dry
Keep your toenails cut straight across and shorter than the tips of your toes
Change your socks frequently and avoid socks that hold a lot of moisture or make your feet sweaty (i.e., wool).
Wear protective shower shoes or flip flops on pool decks and in locker rooms.
OTHER TREATMENTS
There are options out there to treat toenail fungus. Some that just don't seem to work, and others that are downright dangerous.
Oral antifungals seem to be effective. However, they can be expensive and in some people toxic (can cause liver damage).
Nail lacquers with antifungal ingredients can be painted on the nail, but the process can take up to a year to work, if it works at all. Studies show that nail lacquers only have about a 10% success rate.
Nail removal by a podiatrist can be used for serious infections.
"But of course, we highly recommend you try our tea tree oil to treat your toenail fungus," said Stirewalt. "You will love it, or your money back."
7 TIPS TO FIGHT TOENAIL FUNGUS WITH TTO
Compiled below are the 7 best practices to help liberate those toes from fungus by using TTO  so you can wear flip flops and sandals with confidence.  Emmi's Essentials TTO can be purchased from Amazon.
Cut the nail(s) back as far as you can stand. This may be difficult. But, the tea tree oil really needs to get underneath the tip of the toenail. This is easier to do if the toenail is trimmed back. Make sure to not use this clipper for any other toenails to prevent the fungus from spreading to healthy nails.
Apply 2-3 drops undiluted 2-3 times daily of a PREMIUM quality tea tree oil to the affected nail(s) using a cotton swab. Apply the drops directly to the cotton swab. Really get it all over the outside and underneath the tip of the nail.
Cotton swabs are your friends. Use a cotton swab instead of a brush or eyedropper to apply the tea tree oil. Touching the affected nail with the brush or eyedropper contaminates them and may infect your other nails.
Immediately dispose of the cotton swab as it is now contaminated and could cause the fungus to spread to the other nails if re-used. Wash hands thoroughly.
If skin shows irritation from using the tea tree oil undiluted, add 2-3 drops of water with the 2-3 drops of tea tree oil to dilute it. But, the treatment will work quicker if used undiluted.
Don't give up! Toenail fungus is stubborn and may take 2-3 months to completely kill. But, we have had many customers respond that they have successfully gotten rid of it with a premium quality tea tree oil.
Use a premium quality tea tree oil with over 40% terpinen 4-ol and less than 3% cineole levels. Terpinen 4-ol is the property in the tea tree oil that kills the fungus; the higher that percentage, the better.  Cineole is the property that causes skin irritation; so the lower the better.
For a $5 off coupon code on Emmi's Essentials Tea Tree Oil from Amazon.com, click the button below. Hurry, offer ends soon.