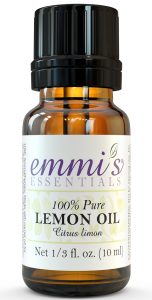 If you want to add a ray of sunshine to your life, look no further. Emmi's Essentials is proud to introduce our 10 ml Lemon Essential Oil available on both Emmi's Essentials site and Amazon.com.
As with all of Emmi's Essentials oils, our Lemon is 100% pure with no added fillers, bases, or carriers and is backed by our "Love It or Your Money Back" guarantee.
USES:
FOR THE SKIN: Natural astringent and antiseptic. Use in a face wash to improve your complexion.
IN THE PANTRY: Cuts through grease and grime. Add to your DIY cleaners.
IN A DIFFUSER: Refreshing and cheery. This citrus oil will absolutely make you smile!